Declan Ryan
CEO & FOUNDER
Read More
As CEO, Declan is responsible for the Project Foundry's business growth strategy & strengthening our unique delivery model. Declan has over 20 years experience in the technology and managed services sector, as a senior leader across Change, Project and Programme Management. He previously worked with some of the leading IT outsourcing service providers, managing large-scale, complex programmes globally, before co-founding The Project Foundry.
A change professional and passionate leader, Declan uses his breadth of experience and knowledge to ensure that the services The Project Foundry Teams deliver are always the best for the client. He leads a scaling team of highly qualified Project & Programme Managers, Business Analysts, and technologists who deliver services to clients across financial services, telecommunications, education, pharma and life sciences, utilities & the public sector.
Of the Project Foundry, Declan says "By delivering best in class project & programme management, the Project Foundry helps our clients overcome the critical challenges they face in implementing change. We are a team of experienced project and programme managers who share a passion for the efficient execution of projects, bringing success to our client organisations."
Elizabeth Doyle
Chief Operating Officer
Read More
Elizabeth has over 20 years experience across Financial Services, Technology & Consulting, spanning both MNCs & SMEs. Here at the Project Foundry, Elizabeth oversees the organisation's ongoing operations and service delivery, with responsibility for the design and implementation of business operations, delivery strategy and future growth plans.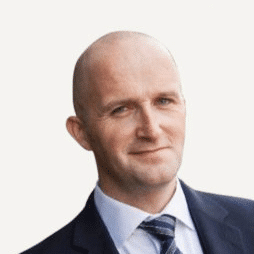 Mark Carragher
Chief Technical Officer
Read More
Mark has over 20 years of experience in designing and managing the implementation of scalable multiplatform cloud solutions for both local and international companies, such as KBC Bank, Xerox and PayPal. He holds multiple Microsoft, Azure, AWS, GCP, VMware and Citrix certifications.
Neil Smith
Chief Delivery Officer
Read More
Experienced, results driven Global Head with extensive Operations and Project/Program experience with a proven ability to improve all facets of Operations' Delivery. Neil managed a large multi-country/multi-cultural team to deliver with efficiency to challenging customers. He challenges the status quo to identify improvement and cost reduction opportunities, and manages P&L monthly/quarterly to ensure targets are met/exceeded.
Neil coaches and mentors staff, aligning individual activities with organisational goals and improving employee morale.
Nicole O'Brien
Chief People Officer
Read More
Nicole is a CIPD qualified Senior Leader with over 15 years' experience in Retail and Operations Management and Recruitment Consultancy with in-depth experience in sales, strategy, operations, team motivation, performance management, planning, budgeting, recruitment and selection, and organisational skills, providing a well-organised and high-achieving environment across multiple industries.
Nicole has led teams of up to 50 direct reports and her mission is to put people first and at the centre of any organisation while working towards an engaged and happy workplace community, creating a culture to deliver and get it right first time.
Jan Strnadel
Head of Delivery
Read More
Jan has over 15 years' experience having worked in various Project and Program Management roles across Financial Services, Telecommunications and Airlines industries. In previous roles, he was responsible for building and leading software delivery teams, delivered complex post trade services solutions to large Capital Market institutions, for end to end project execution and delivery of regional and global treasury/cash management solutions to top tier corporate & FI customers, and managed large global teams delivering bill presentment solutions to Tier 1 Telcos. .
As Head of Delivery in The Project Foundry, Jan builds capability and excellence for our clients, builds a vision and is a client advocate within the business. He ensures successful delivery on all projects within his portfolio, acts as the main oversight and governance mechanism, and builds, coaches and leads lean, motivated and competent Project Management and PMO teams that can reliably deliver for clients, and that demonstrates the values and behaviours of The Project Foundry.
Fiona Traynor
Senior Associate Consultant
Read More
With 20 years' experience in Program Management and Delivery Assurance, Fiona has a proven ability to help clients achieve their business outcomes. She ensures operational excellence and continual improvement by optimising delivery based on evolving needs of clients and leveraging emerging technologies. Fiona is a client-centric, servant leader who supports and empowers staff and clients through delivery assurance and organisational goal alignment.
Ailish O'Dowd
Marketing Director
Read More
Ailish has over 20 years' experience of working in professional services, financial services and hospitality. She has worked for global companies and has in-depth experience in marketing, campaign management, event management, relationship management, project/program development, business development and execution spanning the marketing life cycle.
In her role as Marketing Director for The Project Foundry, Ailish is responsible for developing the marketing strategy. She is part analyst, part strategist and part manager, creating and implementing strategies, tactics, campaigns and brand messaging. She is the voice of the client in the room, while strengthening The Project Foundry's market presence.
Sean Ryan
Head of Business Analysis
Read More
Seán is a highly experienced Technical & Functional Consultant, Business Analyst and BI Specialist with extensive experience in training design and delivery over a 22 year career in IT consultancy. He is acutely aware of customers' requirements and aims to deliver solutions that enhance their day-to-day needs, while also bringing value to their business. As Head of Business Analysis, Seán ensures that all our clients see the business benefits from the technical and non-technical solutions implemented.
Rob Houraghan
Public Service Director
Read More
Rob has over 25 years commercial experience working in the Technology Advisory sector, partnering with C-Suite for the past 10 years at executive and leadership level on Digital Transformation and change programs. He has been involved in building high performing teams in the Public Sector and Healthcare, and has in-depth experience in the Public Sector. Rob passionately leads with core values at the heart of everything, is innovative, strategic, likes to think differently by challenging the norm and delivers outcomes that benefit all involved.
In his role as Public Sector Director for The Project Foundry, Rob is responsible for developing the Public Sector strategy. He understands the key business drivers in the Public Sector and works in partnership with his clients to always deliver value and results.
Simon Carroll
Sector Director Tech and Telecoms
Read More
Simon has over 15 years commercial experience in the Technology Advisory sector, partnering with C-Suite for the past 12 years at executive and leadership level on Software, Hardware and advisory projects. He has been involved in building high performing teams in the Public Sector, SME & Enterprise sized Organisations nationally and globally, and has in-depth experience in the Tech & Telco sector. Simon works toward our five pillars of Excellence in Deliver, Innovation and Community, Communication and Collaboration, Connecting our Business, Accountability and Ownership. With these core values at the heart of everything, he likes to think differently and deliver outcomes that are mutually beneficial for the client and the company.
As Sector Director for Tech & Telco for The Project Foundry, Simon is responsible for developing the Sector strategy. He understands the key business drivers and developments within the Sector and works in partnership with his clients to always deliver a mutually beneficial outcome
Kevin Devereux
Head of Talent
Read More
Kevin is a Technical Headhunting/Recruitment Subject Matter expert with over 15 years of experience developing and managing recruitment teams across various industries and disciplines. His speciality is transferring skills from his engineering background and bringing a scientific approach to candidate sourcing strategies and models. He is a student of the Japanese Kaizen culture and LEAN methodologies, continuously striving for improvement.
His current brief is to build and establish a world-class Talent Acquisition Team for The Project Foundry. With highly talented team members, we are transforming our clients' businesses with our expertise and commitment to providing the best service in our industry.
David Muldowney
Project Manager
Read More
David is a Project Manager and Business Operations Manager with a proven record of delivering business operations excellence, transformational project management, customer service management and stakeholder management for a variety of companies, including recycling service providers, software houses and investment banks.
Roberto Kekeny
Senior Cloud Infrastructure Engineer
Read More
Roberto brings over twenty years of experience in IT. He has extensive expertise in cloud, infrastructure architecture, Windows Server, virtualisation, collaboration, databases and operation monitoring and automation. He is focused on finding the best solution for our customers, while taking an agnostic approach to cloud vendors.
David Linehan
Change & Transformation Specialist
Read More
David is a process excellence professional with over 15 years experience driving end to end performance improvement projects. He is a proven leader in change & project management, and commands a broad catalogue of performance improvement projects. He has successfully delivered sustained change across all levels and functions of business.
His role in The Project Foundry involves overseeing and assessing processes and workflows internally and with a range of clients, gathering pain points in the process and offering solutions.
Aoife Byrne
Senior Business Analyst
Read More
Aoife began her career in 2011 working in Accenture's graduate programme. Over the past ten years, she has worked as both a Project Manager and Business Analyst for a number of different clients across a range of different industries. These include Public Sector, Financial Services and Insurance Industry clients. During this time, Aoife has gained experience in systems and process implementation, including functional work and technical work using both Waterfall and Agile methodologies.
Aoife joined the Project Foundry in January 2022 as a Senior Business Analyst. Part of Aoife's role is to help shape and expand the Project Foundry's Business Analyst practice. She has also taken on a Business Analyst role with one of the Project Foundry's Insurance Industry clients. This role involves helping them review and improve their Personal Insurance processes.
Victoria Stephenson
PMO Consultant
Read More
Vicky is a project professional and change manager with over 20 years' of experience across Product Development, Manufacturing, Renewable Energy, Geophysics, and Logistics. Recently, she has enabled two global companies to develop and mature their PMO's. This was achieved by understanding and solving portfolio challenges, streamlining processes, aligning strategy, driving good governance, and uplifting capability. By delivering solutions and working across organisations, Vicky has developed trusted strong relationships with stakeholders.
At the Project Foundry, Vicky is supporting the PMO, building up our internal catalogue, trend analysis, PPM implementation, and Future PMO, working directly with clients to improve their internal project environment.
Read More
Niall is an experienced results driven professional with over 20 years' of experience in Hospitality, IT, Supply Chain, Manufacturing and Logistics. Recently, he enabled 5 global teams within a leading technology solutions firm by developing a global PMO, focusing on Standards, Policies, Procedures and most importantly, the people. In doing so, he developed strong relationships with a broad range of key stakeholders, ensuring the PMO paved the way for global project success.
At the Project Foundry, Niall is responsible for leading the PMO, building up our internal catalogue, developing our PMO team, creating new IP and offerings, working directly with customers, and understanding the landscape for the PMO of the future. Much of his work involves understanding how the PMO can support or enhance the needs of our people and business. It also involves understanding disruptive technologies, market trends and Project Management insights – as standing still is falling behind.
Fiona Mac Cormac
Project Manager
Read More
Fiona's background is in the Financial and Education sectors. She has travelled throughout Ireland and the UK as part of her role in Bank of Ireland as Engagement Coordinator, BDM and Project Coordinator. In the education sector, her experience included digitization of the vetting process for all non-teaching staff for all community schools across Ireland. She also worked on the creation and compliance of the PMO, alongside Project Managing/PM Support for Cloud Services.
Fiona has been working with The Project Foundry for 2 years, and took on a permanent role in March, 2021. She provides Consultancy PM Services to a large global organization and works in IT Digital Operations, managing both operational and strategic projects.
Aishwarya Yellishetty
Resource Partner
Read More
Aishwarya holds a Masters degree in Human Resource Management from Trinity College Dublin. She has 2 years of experience in HR and recruitment, and would describe herself as an ambivert, but says her profession needs her to be an extrovert. She loves connecting and getting to know people. Big time learner, would always want to be a learner.
Aishwarya recently joined TPF's recruitment team, working primarily on contract roles. She says people here are fun to talk to, enjoy figuring out new ways of getting stuff done, and are open for new ideas.
Niamh Breen
Talent Partner
Read More
Niamh is an experienced and motivated Talent Partner who strives to provide an excellent experience for the candidates and clients she works with throughout the recruitment process and supports the internal HR operations of The Project Foundry. Proven experience in the end-to-end recruitment life-cycle, providing top talent for our clients in various sectors. Niamh excels at working to tight deadlines, managing multiple priorities simultaneously, and takes pride in listening to the needs of her candidates and clients.
Niamh is currently studying for a master's in human resource management to expand her knowledge in this field and compliment her day-to-day role. HR responsibilities, such as issuing contracts, providing induction, continuous HR support through the off-boarding process, and championing our culture, are also key aspects of the services Niamh provides to the business as part of the HR function.
Srinivasan Venkataraman
Principal Program Manager
Read More
Srinivasan is a Delivery / Program Manager Management Professional with versatile experience in Program Management, Project Management, Technical Management, PMO management, Risk Management, Quality Assurance, system Analysis and leading development efforts for business critical IT applications. At the Project Foundry he Handles IT Programs and Operations for one of our key clients in the CRO Space
He is proficient in defining, leading and driving end to end Programs and project operations effectively, through the implementation of several management dynamics including Strategic Execution Plans, Task & Resource Allocation, Team Management, Performance Monitoring/Supervision, Progress Reviews, Training & Development.
Diarmuid Sinnott
Junior Cloud Infrastructure Engineer
Read More
Diarmuid has over 4 years experience in the IT Industry in both Public and Private sector, along with experience supporting and administering O365 stack, Citrix, VMware, Azure, Veeam and Datto backup solutions and McAfee ePO.
At the Project Foundry he is a Junior Cloud Infrastructure Engineer and provides day-to-day support for the team
Ciaran Ryan
Marketing and Research Specialist
Read More
Ciaran has over 4 years experience in marketing, data analysis and web design. He brings a varied background across multiple sectors to the Project Foundry Team
At the Project Foundry, he is responsible for industry research and monitoring our digital marketing goals.